August is a slow month for theatre in Boston; many thespians decide to escape on a last-minute vacation before the fall season begins, and many theatre companies busily try to complete their seasons (we're still waiting on a few companies to release their entire slate of production titles). However, surprisingly, we have more than enough shows to review in this hot month of August. To escape to the cool confines of a theatre, we have a selection of original works and old favorites, funny musicals and dark plays. As usual, the Must See list features productions ranging from professional and Equity theatre to the Boston fringe companies.
This month, a general theme that struck our Editorial Staff was the struggle to overcome obstacles. In PLAYHOUSE CREATURES, we see female actresses taking the stage for the first time; in SINGIN' IN THE RAIN, we see actors and actresses struggle to adapt to the changing Hollywood scene; in GOD HATES MUSICALS, our hero fights to understand and perhaps rebel against his family's religious and socio-political dogma; and in PYGMALION, the minority Eliza struggles to gain power through the use of language in a totalitarian world dominated by men. The underdogs (the female Restoration actresses, Kathy Shelden, David Phelps, and Eliza Doolittle) provide a lens into worlds of submission, which, with the help of skill, intellect, and a little luck, they manage to subvert, rising to power.
However, akin to our fascination with what happens after "Ever After," we must also look to what happens after the underdog rises to such power. What do these minorities do once they gain the upper hand over their opponents? How does the world change in the concluding moments? And is the new world really one for the better, or do we have continued struggles to fight and overcome? What do you think? Do any of these productions provide the necessary discussion and commentary for change in our modern society? Send us an email at brian@myentertainmentworld.ca or simply reply with a comment on this feature.
To be considered for September's entry, please email us at brian@myentertainmentworld.ca by August 22, 2014, with information on your production, including company name, production title, director, location, production dates, and a brief reason why your production should be considered. September's entry will be posted at the very beginning of the month.
This month, we feature:
PLAYHOUSE CREATURES by Maiden Phoenix Theatre Company
SINGIN' IN THE RAIN by Reagle Music Theatre of Greater Boston
GOD HATES MUSICALS: A MUSICAL PARODY OF THE WESTBORO BAPTIST CHURCH by Ministry of Theater
PYGMALION by Flat Earth Theatre
PLAYHOUSE CREATURES
Written by April DeAngelis
Directed by Anna Trachtman
Maiden Phoenix Theatre Company
Factory Theatre
791 Tremont St., Boston, MA
About the Production
August 1 – 17, 2014
Maiden Phoenix Theatre Company produces its first full production with the story of the first actresses on the English stage during the Restoration period. Their struggles, both personal and professional, provide a historical backdrop for us to consider broader socio-economic difficulties as women continue to play supporting roles, both on-stage and off-stage. Recently, many communities have held both formal and informal discussions regarding the limited offerings for female playwrights and female directors. While plays for female actresses are not as few as these other opportunities, Maiden Phoenix Theatre Company allows many Boston actresses to shine in its PLAYHOUSE CREATURES, including a female director and mostly female production team. Maureen Adduci (RABBIT HOLE at Hovey Players, and THE NORMAL HEART at Zeitgeist Stage Company) makes this production more than worth seeing. This play should encourage audiences to discuss our limited gains in gender equality on the stage and in our daily lives. Also, who doesn't love a cleverly directed period play with seventeenth century manners and costumes?
SINGIN' IN THE RAIN
Screenplay and Adaptation by Betty Comden and Adolph Green
Songs by Nacio Herb Brown and Arthur Freed
Based on the MGM film by special arrangement with Warner Bros. Theatre Ventures, Inc.
Directed by Kirby Ward
Music Directed by Dan Rodriguez
Co-Choreographed by Eileen Grace and Kirby Ward
Reagle Music Theatre of Greater Boston
617 Lexington St., Waltham, MA
About the Production
August 7 – 17, 2014
Reagle Music Theatre's SINGIN' IN THE RAIN is a natural Must See for Boston audiences; made popular by MGM's hit classic movie-musical, SINGIN' IN THE RAIN boasts charming characters and toe-tapping tunes. The 1952 movie starred Gene Kelly, Donald O'Connor, and Debbie Reynolds in 1920s Hollywood, during the transition from silent films to "talkies." Some iconic songs include "Good Mornin'," "Make 'Em Laugh," and the title song "Singin' in the Rain" with plenty of comparable numbers to fill the show. We were excited in earlier months upon the announcement of Reagle's season, but one of our apprehensions regarded the ability to make the production really shine and meet the movie's acclaim. Enter Stage Left: Sean Quinn as Don Lockwood (made famous by Gene Kelly). Enter Stage Right: Edward Tolve as Cosmo Brown (made famous by Donald O'Connor. Enter Center Stage: Gillian Mariner Gordon (2013 My Theatre (Boston) Award Nominee for Best Supporting Actress in a Musical) as Kathy Selden (made famous by Debbie Reynolds). Each of these young performers has more than enough skill and charisma to carry the show to award-worthy acclaim, to match the movie's success and surpass expectations.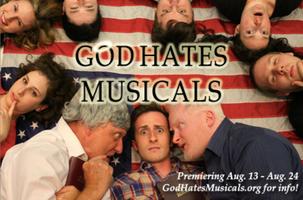 GOD HATES MUSICALS: A MUSICAL PARODY OF THE WESTBORO BAPTIST CHURCH
Written by Joseph Creedon
Music by Bryan Dunn
Lyrics by Emily Laverdiere
Directed by Joseph Creedon
Music Directed by
Ministry of Theater
TheatreLab@855
855 Commonwealth Ave., Boston, MA
About the Production
August 13 – 24, 2014
So like last month's CREATIVE LICENSE, the details on GOD HATES MUSICALS: A MUSICAL PARODY OF THE WESTBORO BAPTIST CHURCH are slim. However, it's a 1) musical parody; 2) about the Westboro Baptist Church; 3) with a fun pun in the title about religion, musicals, and [insert demographic or abomination to be hated this week]. David Phelps questions his family's hate-fueled ways and dogmatic approach to life when Steve Drain, an outsider, changes his life.  With the Rapture looming, can David trust Steve, and, more importantly, does God really hate musicals? This musical is cautiously on the list because it's an original musical in Boston, a city that suffers from a lack of anything original, let alone a musical with cleverness or socio-political verve.
PYGMALION
Written by George Bernard Shaw
Directed by Devon Jones
Flat Earth Theatre
Arsenal Center for the Arts
321 Arsenal Street, Watertown, MA
About the Production
August 22 – 30, 2014
Speaking of original, Flat Earth Theatre, a company that My Theatre (Boston) has regularly reviewed, shakes up their season with a twist on a stuffy favorite. Their production exists in a totalitarian police state dominated by the cold Edwardian elite, set in vibrant and multicultural modern London. The production features its own multicultural and multiracial cast, including Chris Chiampa (THE PILLOWMAN and THE MEMORANDUM at Flat Earth Theatre) as Professor Henry Higgins, Jaclyn Johnson as Eliza Doolittle, with J. Deschene (BENT and PRIDE AND PREJUDICE at Theatre@First) as Mrs. Eynsford Hill, and Allison Olivia Choat (COMPANY at Moonbox Productions) as Freddy Eynsford Hill. This production might be exactly the kind of clever re-imagining needed to fuel Boston's own lesson in innovative theatre.